Explore the value of a business degree in Australia. Versatile skills, high employability, and lucrative salaries make it an appealing choice for aspiring professionals.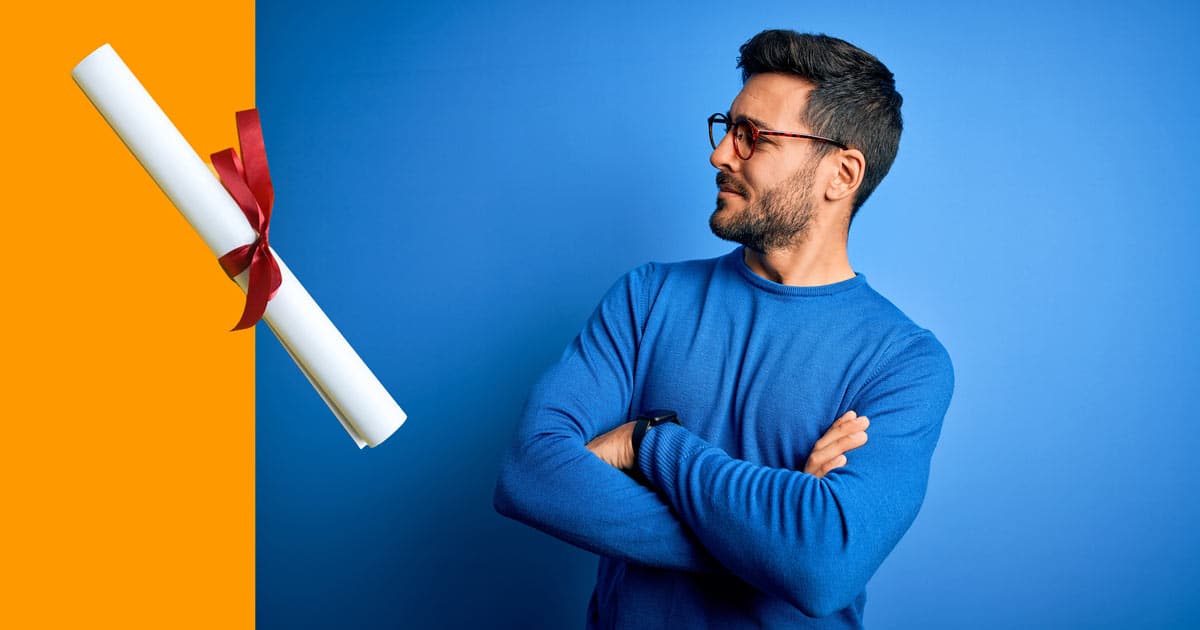 Are you considering studying for a business degree in Australia? This comprehensive guide explores the worthiness of this potential choice, providing statistics and insights to help you make an informed decision.
With good employment prospects, valuable skills, and the potential for a high salary, a business degree can open doors to a successful professional journey. Learn about the benefits, drawbacks, and essential considerations to help you decide if business is the right degree for you.
When someone refers to a business degree, they usually mean a bachelor's degree in any area of business. In Australia, this is often referred to as a Bachelor of Business or Bachelor of Commerce. However, master's degrees are also available, such as a Master of Business Administration (MBA).
Business degrees typically combine general studies with specialisation in a specific discipline. Most programs cover core subjects such as accounting, economics, finance, management, and marketing.
Students have the opportunity to specialise in one or two specific disciplines to gain expertise. In addition to the core fields mentioned, majors or specialisations are available in areas like analytics, entrepreneurship, human resources, logistics, project management, and more.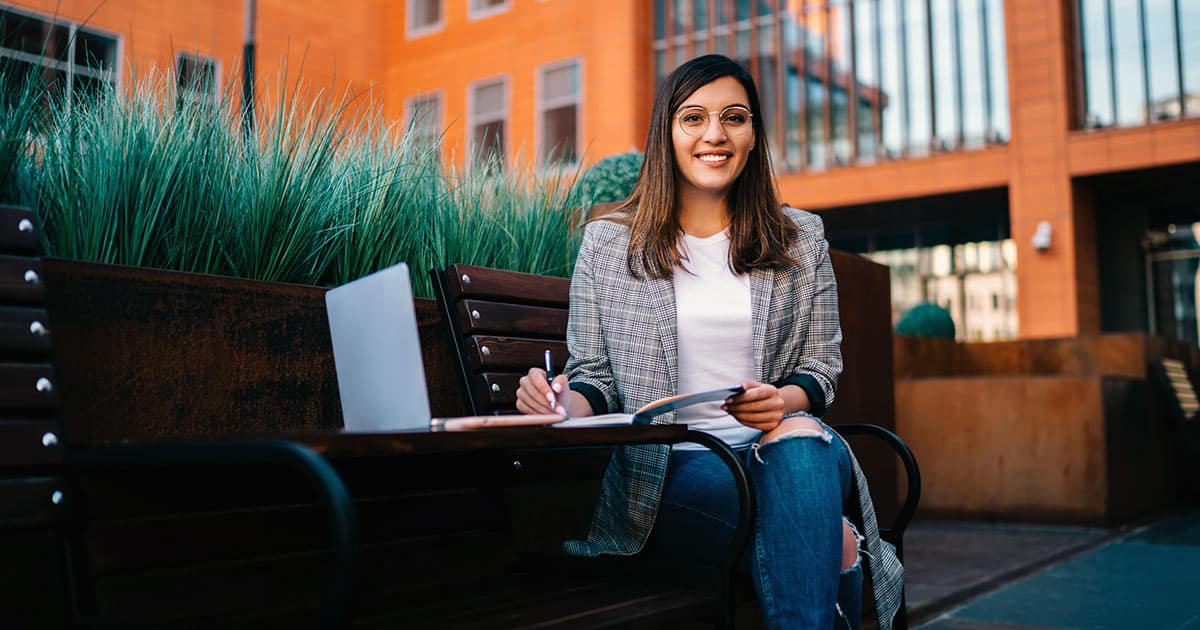 Demand for business graduates is consistently strong in Australia. Every organisation needs professionals to do tasks such as accounting, advertising and marketing, hiring and paying staff, managing teams, etc. With the country achieving steady economic expansion and population growth, abundant job opportunities are available.
Our analysis of salary statistics indicates that demand for professionals with a business degree are highest in human resource management, business analytics, finance, logistics and supply chain management, and digital marketing. Triple-figure salaries are achievable with modest levels of experience and responsibility.
According to the National Skills Commission Skills Priority List (2022 edition), the national future demand rating is strong for occupations such as human resource adviser, recruitment consultant, workplace relations adviser, land economist, and valuer. Labour shortages currently exist for auditors, insurance brokers, and marketing specialists.
Studying business at university offers significant benefits, with graduates gaining skills that are both practical and versatile. While we can list many good reasons to study business, three key advantages are skill versatility, high employability, and strong career earning potential.
1. Versatile skills
A degree in business offers the advantage of easy career change. With transferable skills and exposure to multiple disciplines, you can transition between different roles and industries. Graduates have a broad foundation of knowledge in finance, analysis, management, and more, along with critical thinking, problem-solving, and communication skills. Specialisations allow you to focus on specific areas while keeping alternative career paths open.
2. High graduate employability
Studying business is highly effective for enhancing employability. Graduates can access a wide range of job options, limited only by their ambition, effort, and talent. According to the 'Australian Graduate Outcomes Survey' (2022 data), a Bachelor of Business ranked as the top-performing 3-year degree for full-time employment. 84% of Business and Management graduates were employed full-time after graduating.
3. Strong earning potential
A business degree paves the way for high-paying jobs. Specialisations like Human Resource Management, Business Analytics, and Finance offer average salaries ranging from $101,728 to $119,293 in Australia, showcasing the lucrative opportunities available to graduates. The ability to move laterally into different career paths and upward into managerial roles makes business a field with plenty of potential for growth and success.
Related: Why Is Business a Good Major?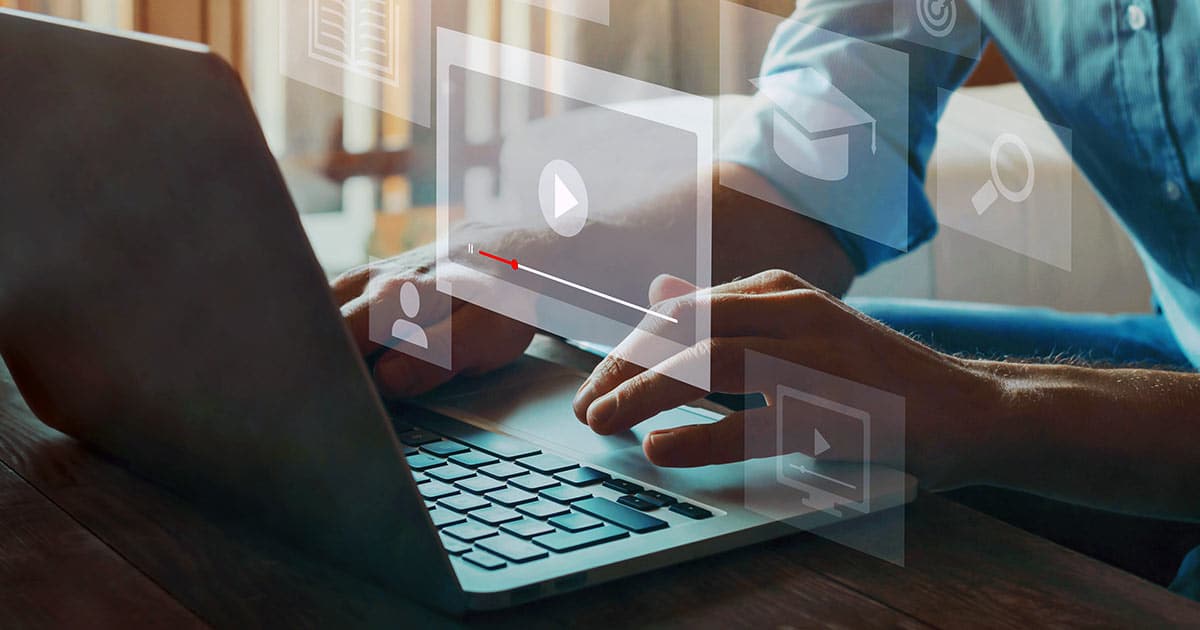 Getting a university degree requires both time and financial investments. For many students, the true cost of studying business lies in the concept of opportunity cost. Widely taught in business schools, opportunity cost refers, in this case, to the value lost by choosing a business degree over alternatives like science, technology, or arts degrees.
We have already discussed the significant advantages and benefits of a business degree. It is one of the most versatile degrees in terms of career opportunities. In addition, the skills you develop are transferrable, meaning they can be valuable even if you decide to pursue a different career altogether.
A drawback of this flexibility is that you may not be guaranteed a direct career path upon graduation. With the exception of vocational business disciplines like professional accounting and HR management, graduates may find themselves partially qualified for many job opportunities but not in the box seat for any particular type. To overcome this, you can pursue strategies such as internships, networking, and taking entry-level positions to gain experience. Also, be open-minded about the different kinds of job you're capable of doing.
In Australia, Bachelor of Business degrees typically last three years, shorter than fields like education, engineering, and healthcare. The tuition fees are comparable to other popular fields like humanities and sciences. Australian students receive government support through subsidised fees and FEE-HELP loans to ease the financial burden.
Being one of the most popular fields of study, it would be a stretch to describe a business degree as difficult. Currently, 399k students are enrolled in undergraduate and postgraduate business courses in Australia, indicating more than 100k students graduate each year.
We sought the opinion of Andrew Lancaster, a PhD economist and former economics tutor at ANU and the University of Tasmania. He believes that "any good student should be able to complete a business degree with appropriate effort. The ones most likely to struggle are those who quickly lose interest in technical subjects like supply-demand charts or a financial statement."
Business is a field suited to all-rounders and can be relatively straightforward for solid students with an inclination towards mathematics. Unlike arts or law degrees, a love of reading and writing is not essential. Moreover, business degrees generally do not reach the same level of technical difficulty as science and technology programs.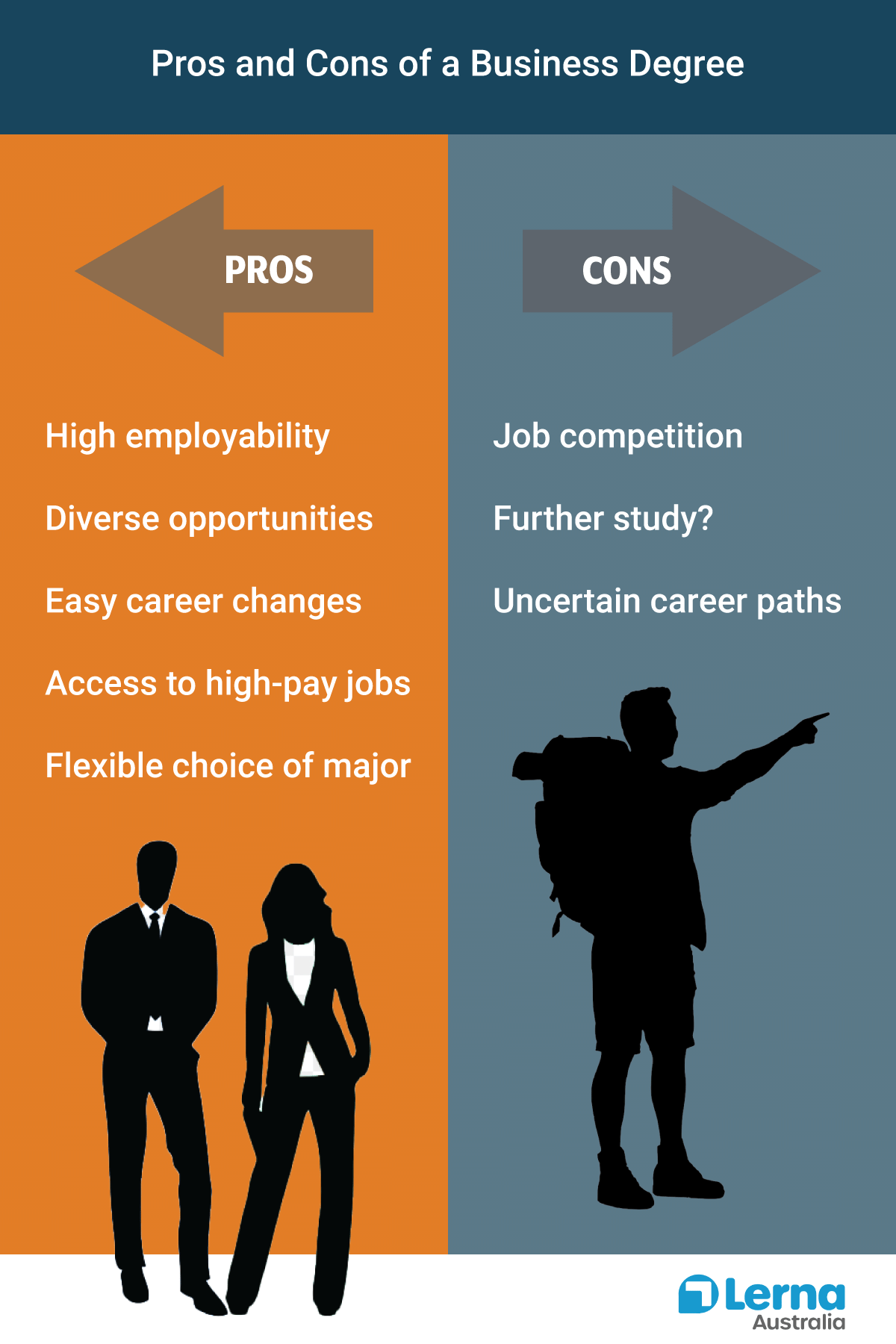 A business degree is undoubtedly worth it for many individuals. The course duration is relatively short in Australia, with bachelor's degrees lasting 3 years and master's degrees taking 1.5 years. The difficulty level is moderate, making it an achievable qualification for capable students.
Graduates are well-positioned for high-paying jobs, as a wide variety of business careers are associated with above-average salaries.
One often overlooked aspect is the flexibility to choose a specialisation after the first year of study. Additionally, it is often possible to combine a business major with a major from another faculty, such as computing or mathematics and statistics.
If you have an aptitude for business studies and can envision yourself working to improve organisational performance, there is a strong case to enroll in a business degree program.
The main drawback of pursuing a business degree is the uncertainty surrounding future career prospects. While certain fields like accounting and data analytics offer stability, they may be considered dull by some students. The more exciting career paths often require taking a leap of faith, relying on your skills and abilities to pave the way to success.
Related: Why I Want to Study Business: Essays
Let's delve into 10 of the most popular business majors studied in Australia. These fields are commonly encountered in business degree programs, whether as core subjects or through elective and specialisation options.
Accounting
Accounting involves analysing and communicating financial information. Essential qualities for accountants are attention to detail, strong analytical skills, ethical behavior, and mathematical proficiency.
In an accounting degree, students cover subjects such as accounting information systems, audit and assurance, corporations law, Australian taxation, economics, finance, financial accounting, management accounting, and quantitative methods. A professional degree allows graduates to apply for accreditation with industry bodies such as CPA Australia.
Business analytics
Business analytics involves analysing data to extract valuable insights and inform strategic decisions for a company or other organisation. Analysts use data analytics skills and an understanding of profit strategy to help improve business performance.
In a business analytics course, you may study subjects such as data processing, programming languages, customer analytics, marketing analytics, and data visualisation. Applied projects with real data develop practical skills in generating valuable insights for company leaders.
Economics
Economics is the study of how societies allocate scarce resources to satisfy the wants and needs of people. Economists analyse and forecast economic trends, provide policy recommendations, and assess the impact of economic decisions on different groups.
In an economics degree, you will explore subjects such as microeconomics, macroeconomics, econometrics, and public finance. The challenging coursework builds valuable analytical, mathematical modelling, and report writing skills.
Entrepreneurship
An entrepreneur identifies business opportunities, takes risks, and manages venture growth.
In an entrepreneurship degree program, you study subjects like business planning, marketing strategies, financial management, innovation, and market research. Graduates are positioned to start their own businesses, work in strategic roles, or pursue careers in business management, consulting, marketing, or venture capital.
Finance
A financial professional manages assets to create wealth for investors or companies. They focus on fund raising and investment activities, considering the time between an investment and its future payoff, along with associated risks.
Finance degrees involve the study of financial analysis, reporting, investment principles, risk management, portfolio management, and related subjects. A finance degree opens doors to competitive sectors such as commercial banking, corporate finance, insurance, investment banking, and private equity.
Human resource management
A human resources manager is responsible for managing employee relations, workforce planning, recruitment, training, performance management, conflict resolution, and workplace relations.
HR courses cover subjects such as behaviour in the workplace, legal and regulatory frameworks, managing people, and understanding organisational objectives. An HR management degree creates opportunities for careers as HR professionals, managers, recruitment consultants, learning and development managers, and more.
Logistics and supply chain management
Demand is high for professionals who can improve business operations and manage complex supply chains. Logisticians and supply chain managers ensure timely delivery, optimise inventory, streamline processes, and enhance overall operational effectiveness.
In supply chain and logistics courses, you study topics such as customer relations, global networks, inventory control, operations management, and procurement. A degree in this field creates opportunities as a logistics analyst, distribution manager, procurement manager, operations manager, or supply chain consultant.
Management
Managers oversee and direct the operations of businesses. You generally become a manager only after gaining significant professional experience.
In a Bachelor of Business (Management), you study business fundamentals and develop skills in communication, problem-solving, leadership, strategy, and teamwork. A management or business administration specialisation prepares you for leadership roles across industries.
Related: What Can You Do With a Business Management Degree?
Marketing
Marketing professionals play a crucial role in helping businesses grow by reaching and persuading customers to purchase products. The highest paying marketing jobs include e-commerce marketing director, user experience (UX) director, and marketing research manager.
A marketing degree provides a thorough coverage of marketing principles and explores subjects such as accounting, digital marketing, economics, finance, and management. Graduates gain skills in consumer behaviour, campaign strategy, digital platforms, and business analytics. The degree opens up diverse career opportunities in advertising, public relations, sales, and marketing management.
Related: Is a Marketing Degree Worth It?
Project management
Project managers are responsible for leading and coordinating projects from start to finish. They are experienced professionals who commonly work in industries such as construction, engineering, information technology, healthcare, consulting, and manufacturing.
In a project management degree, students study subjects such as project planning, resource allocation, risk management, stakeholder engagement, and communication. The degree equips graduates with the skills to define project scopes, create plans, monitor progress, and successfully deliver projects.