Can international students study online in Australia? Yes – international students can study online for a degree with an Australian university. At any given time, 10,000+ foreign students are externally enrolled in Australian degree courses.
Note that, to come to Australia on an International Student Visa, at least two-thirds of the units you do must involve regular face-to-face classes. Students from abroad who are living in Australia are required to attend classes in person regularly.
Here are some important things to know before you consider enrolling.
You need excellent English skills to earn an degree with an Australian university.
Tuition fees are as high (or almost as high) for distance learners as on-campus students.
Not all types of courses can be completed from outside Australia.
Can I Study Online with an Australian University?
Most Australian universities support international students studying by distance education. Course choices may, however, be limited if you want to complete your degree without visiting Australia.
For practical reasons, certain types of courses are not offered online at all (e.g. medicine).
For quite a few other course types, occasional on-campus sessions are compulsory (e.g. professional engineering).
Which Unis Support Distance Education?
The vast majority of Australia's universities offer at least some courses by distance education.
More than a dozen universities have 4,000+ online students.
Several universities specialise in distance learning—they teach more students online than on campus.
While a large proportion of course offered in the distance mode are available to international students, the take-up rate is quite low. Online international student numbers are generally no more than a few thousand at popular online universities.
How Much Does Online Study Cost in Australia?
Tuition fees for studying online are similar to tuition fees for on-campus students. As a guide to fees, the tuition fee for a business degree is $25,000+ (Australian dollars) per year. Fees for online study to tend be a bit lower because universities specialising in distance education set lower fees generally.
Studying online is, of course, more affordable in the sense that you don't have to move away from home. It's also a convenient way of studying part time. Most Australian online students combine part-time study with full-time or part-time work.
How Does Distance Education Work?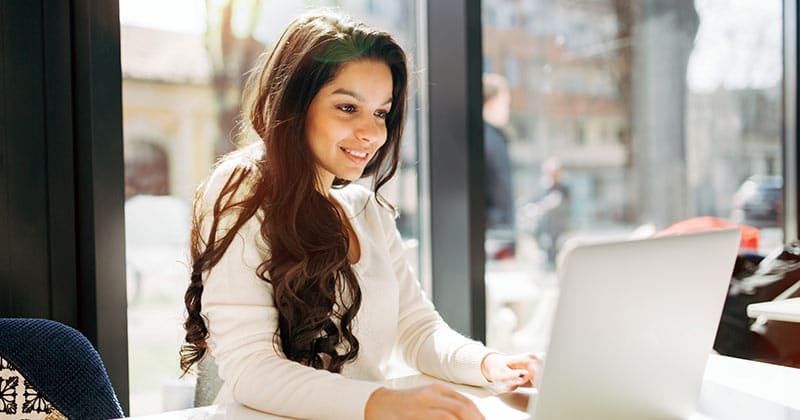 When you do a university course by distance education, normally you work through the same material and sit the same exams as on-campus students.
The key difference is that course materials and instruction are delivered in a digital format so that you can study at home. Also, you communicate with teachers and students using online methods.
Dedicated online programs, especially postgraduate courses, are often exam-free. If there are any long-format exams, they can be sat at a facility near where you live, including outside Australia.
For subjects where in-person attendance is not critical, you can complete courses without attending the university at all. For this reason, online study is well suited to essay and research degrees. Among the good subjects for distance learning are business and information technology.