Develop essential analytical skills to thrive in data-driven roles and lift business performance.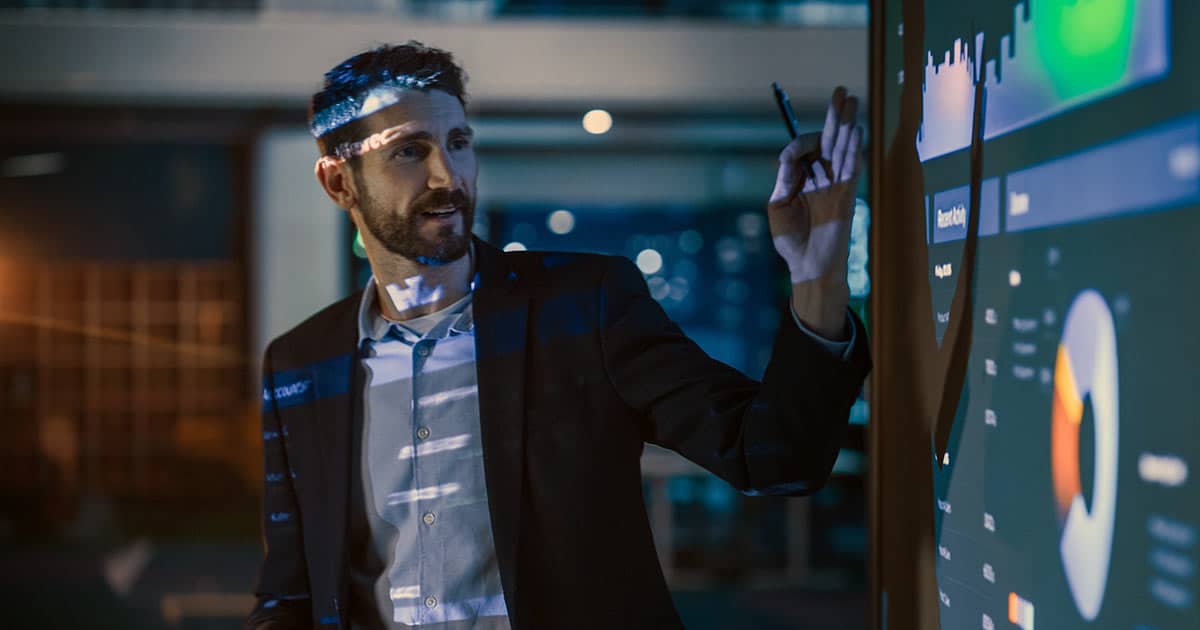 A Master of Analytics is a rigorous and well-balanced program for analysts who want to make an impact on business decisions. Students learn advanced data analytics alongside consulting and people management skills.
This degree is designed to produce graduates who can take on any kind of data or business analyst role. The program covers the full range of technical subjects while instilling the strategies and soft skills needed to convert data insights into practical, real-world outcomes.
By completing the program, you'll unlock numerous job opportunities and position yourself for career success. In a digital world where data is multiplying and crucial for business success, you'll develop the precise skills necessary to be at the forefront of leveraging data to drive prosperity.
For anyone with the academic aptitude and an interest in this field, the case to study for an analytics master's degree is compelling. This program allows you to build a comprehensive skill set covering all essential aspects of data analytics.
From data collection to visualisation, students gain expertise in the technical foundations. What sets this program apart is an emphasis on additional skills crucial to influencing decision-making. Additional topics include communication, people and business management, and strategic thinking.
As depicted in the graphic, an analytics university program is ambitious. The aim is to equip students with a broad skillset that gives access to a vast range of analytical jobs. Graduates have the technical capabilities of a data analyst, coupled with the strategic awareness of a business analyst.
With the rising value of data analysis skills, employers seek professionals with technical expertise to exploit data. But they also want the full package, someone who can go beyond technical tasks to actively shape company strategies. Graduates of this program are positioned to become highly sought-after professionals.
UNSW Online - Master of Analytics
The 100% online Master of Analytics program at UNSW is ideal for ambitious working professionals looking to develop advanced analytic capabilities. The 12-subject program provides students with expertise to influence business decisions, leverage career opportunities, and apply skills across all industries. You can tailor your studies to specialise in General Analytics or Marketing Analytics. The program is part-time and accelerated, allowing you to graduate in two years without compromising your career. No time away from work is required to earn this degree.
A Master of Analytics distinguishes itself by blending technical proficiency with the capacity to shape strategies. By comparison:
A Business Analytics degree generally has less technical and more strategy content.
A Master of Data Analytics is similar but potentially more narrowly focused on analytics.
Data Science programs focus extensively on programming and data manipulation.
Marketing Analytics courses specialise in applying analytics to marketing problems.
An MBA prepares professionals for leadership positions, not to be dedicated analysts.
A Masters in Business Analytics is a high-paying degree focused on the decision-making stage of data analysis. Classes tend to consist of a blend of technology professionals and those with a business background.
Technical competency is needed to do well in a Business Analytics degree. However, compared to an Analytics program, you may spend more time exploring how to use analysis as a tool to meet pressing business needs.
A good postgraduate program in business analysis allows you some flexibility to choose subjects to match your learning goals... READ MORE
Data scientists are required to have deeper mathematical and programming skills than data and business analysts. A business analyst may, for example, use custom database programming written by a data scientist.
Subjects you may encounter in a Master of Data Science include data wrangling, data mining, machine learning, multivariate analysis, and neural networks. Program participants should have a strong mathematical and technology background.
Getting deep into the field of big data is one reason to consider studying for a data science degree... READ MORE
Marketing analytics is an important function for many businesses, especially those with a strong digital marketing presence. You can specialise in this field with a Masters in Marketing Analytics.
The online program will develop your analytical skills generally, including foundation subjects, but also give you the chance to spend extra time on topics such as customer analytics, social media, and digital analytics.
Adding analytics to your marketing skills expands the professional roles you can do. And you're better positioned to manage data-driven campaigns... READ MORE
The difference between an MBA and an analytics degree is significant. An MBA is primarily a management degree, whereas a master's in analytics focuses exclusively on developing analytic and related skills.
Analytics is a single subject in many MBA programs, comprising around one-twelfth of the curriculum. However, you can specialise in business analytics, which usually involves studying 3-4 relevant subjects.
Which one is better? If you want to be an analyst, a Master of Analytics is ideal. An MBA is more useful for targeting executive or leadership roles... READ MORE
A Masters in Analytics is a 12-subject program. At UNSW Online, there are 8 core subjects, 3 electives and 1 capstone (end-of-program) project. Your electives are pre-determined when you choose a General Analytics or Marketing specialisation.
Core subjects
Analytics (ANL) and Business
Big Data Management
Data and Ethics
Data Visualisation and Communication
Introductory Data Analysis
Managing People, ANL and Change
Predictive ANL
Principles of Programming
General Analytics major
BA and Consulting
Financial Modelling
Decision Making in ANL
Marketing Analytics major
Foundation of Marketing ANL
Managing Customer ANL
Social Media & Digital ANL
UNSW Online - Graduate Certificate in Analytics
The Graduate Certificate in Analytics from UNSW Online serves as a pathway to the Master of Analytics, allowing graduates to effectively complete four subjects that count towards the degree. Participants have the flexibility to choose four subjects from a total of 14 subjects offered in the larger curriculum. With part-time study, the grad cert can be completed in less than 8 months. Bachelor degree graduates from any discipline are eligible, as well as professionals with at least 3 years of experience. While the qualification obtained holds its own value, this highly flexible course also provides an opportunity to test the degree program.
Easy is not the right word to describe a master's degree in analytics. As an advanced degree in a technical field, it must be considered challenging. At a minimum, applicants need solid foundations in mathematics, statistics, and logic.
Two related challenges make the degree at least moderately difficult. The first is the breadth of skills required to be a competent analyst, including database management, programming, statistical modelling, and use of analytical tools. Secondly, some topics can be individually difficult or uninspiring.
However, academic success in this field relies more on consistent effort, problem-solving abilities, and a genuine desire to learn, rather than intellectual brilliance. If you are comfortable with technical tasks and can sustain focus for extended periods, you are well-positioned for success in the program.