Think of a graduate diploma as half or more of a master's degree. In Australia, students usually gain this university qualification by completing the bulk of a master's program.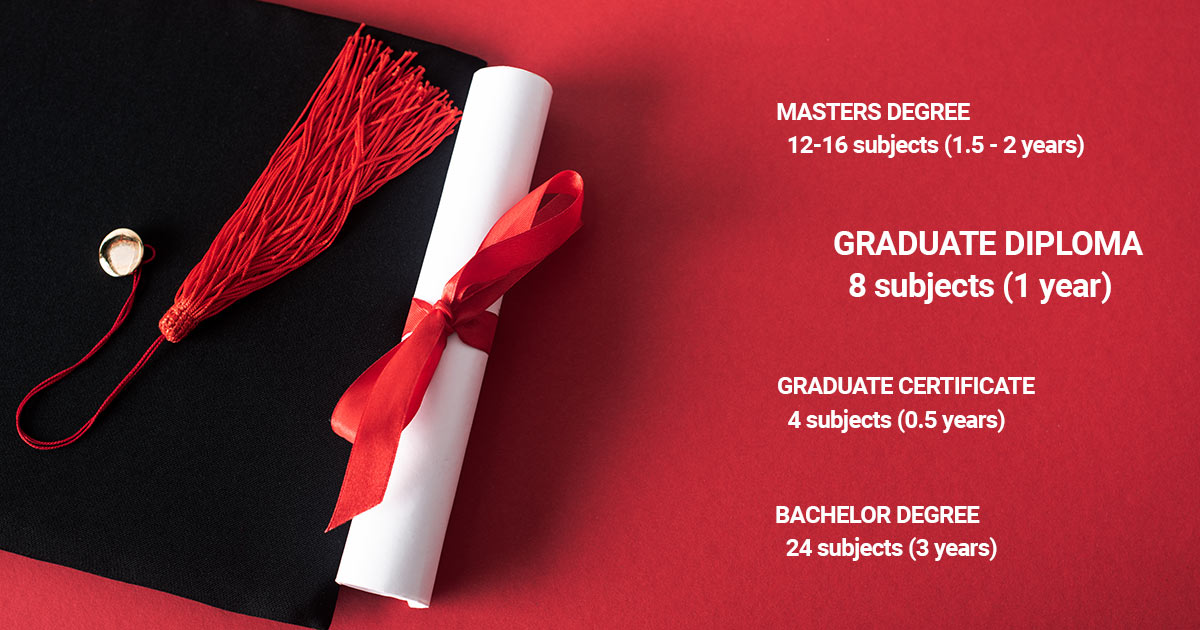 Graduate diplomas are popular among busy professionals who want to upskill quickly. These postgraduate qualifications can be completed in as little as half the time it takes to earn a masters degree.
A graduate diploma typically consists of 8 subjects in Australia, while a master's program may require 12-16 subjects. In other words, it is equivalent to a year of university study, compared to 1.5 to 2 years for a masters degree.
It is an excellent option for professionals who (a) want to quickly enhance their qualifications and skills but (b) desire more comprehensive training than what a four-subject graduate certificate provides.
Definition
A graduate diploma (also known as a postgraduate diploma outside Australia) is a medium-length postgraduate qualification that prepares you for a professional career. In the university hierarchy, it is ranked above a graduate certificate but below a masters degree. Programs may be designed for current professionals in a field as well as graduates from different academic backgrounds.
You generally need an university degree of some kind or multiple years of relevant work experience before you can enroll. Students who have not attended university before may qualify for a graduate certificate first, for which entry standards are usually more relaxed. Any completed subjects can often be used as credit towards higher qualifications.
Courses are available across almost the full spectrum of disciplines taught at universities. Here is a small selection of the types of grad dip qualifications available in Australia.
A Graduate Diploma in Nursing provides registered nurses with advanced knowledge and skills in a specialised area of nursing, such as advanced practice, management and leadership, mental health, or nurse education.
The 8-subject course allows working nurses to add to their skills and qualifications, improving their performance in current nursing practice while creating opportunities for career growth.
Graduates can pursue job opportunities such as clinical nurse specialist, nurse educator, and healthcare services manager... READ MORE
The Graduate Diploma in Psychology is for university graduates interested in switching careers into psychology. This is a relatively long program, consisting of 10 subjects and counting as the equivalent of a Bachelor of Psychology.
The course takes 20 months of part-time study and is a pathways towards the advanced study to become a registered psychologist.
Students explore topics such as human cognition, mental health, and psychological assessment. Graduates gain applied skills that are useful in fields such as community services, health services, and HR management... READ MORE
A Graduate Diploma in Public Health prepares professionals from healthcare, business, analytics, and social science backgrounds to improve public health outcomes.
Usually consisting of 8 subjects, programs cover subjects such as epidemiology, biostatistics, health promotion, and social perspectives. Applicants should have a bachelor's degree, or extensive relevant work experience in healthcare or human services.
Graduates can work in various public health-related roles, including policy development, health promotion, administration, and research... READ MORE
Is a graduate diploma a good degree?
Yes, this is a great option for those looking to enhance their qualifications and knowledge in a specific area. It can be a stepping stone towards career advancement and further academic opportunities.
The qualification is valuable and respected in Australia. It is designed for students who already have an undergraduate degree or other university qualification. Students are able to specialise in a particular field or gain advanced knowledge and skills in a chosen profession.
Programs are offered by universities across Australia and are recognised by employers and professional bodies. They can lead to career advancement, higher salaries, and improved job prospects. Most courses are also pathways to further study, such as a master's degree.
Why these types of courses are worthwhile
What makes such courses worthwhile doing? Firstly, a grad dip is a means to achieve a higher level of expertise or specialisation within your industry. Professionals in healthcare, IT, and business management, for example, often choose to pursue this qualification. You can acquire new technical or management skills in a targeted way that prepares you for new roles.
There is also the advantage of being a faster alternative to a masters degree. Not everyone can afford the time and financial commitment required for a full postgraduate degree. You might shave a year off your study time. With choices of electives, you might also be able to target subjects you are truly interested in while skipping others.
The course also provides a pathway to transition to a new career without starting over with another bachelor degree.
For example, if you have a health science background but want to pursue a career in accounting, a Graduate Diploma of Professional Accounting may be an option. Your undergraduate qualification may already meet the entry requirements, allowing you to fast-track your way to becoming an accountant.
Is it higher than a bachelor's degree?
Yes, a graduate diploma is considered higher than a bachelor's degree in terms of academic standing. Although shorter, it is a postgraduate qualification.
In Australia, a grad dip is usually taken after completing a bachelor's degree or a graduate certificate. Therefore, it is considered higher than a bachelor's degree in terms of academic level. It sits at Level 8 in the Australian Qualifications Framework, whereas a bachelor's degree is at Level 7.
While a bachelor's degree provides a broad-based education across a range of subjects, postgraduate courses allow students to focus on a specific area of study. You can build advanced knowledge and skills in a particular field, enhancing employment prospects and career opportunities for university graduates.
Is a grad dip the same as a Masters?
No, it is not quite the same as a master's degree. While both are postgraduate qualifications, the grad dip is typically shorter in duration and less extensive in terms of coursework and research requirements.
It usually requires one year of full-time study (or part-time equivalent), while a master's degree usually takes 1.5 to 2 years of full-time study. Additionally, the area of study will normally be narrower. A master's degree provides a more comprehensive and in-depth education.
In Australia, a grad dip can usually be used as a pathway to a master's degree. Students who complete it with solid grades are normally eligible to apply for advanced standing or credit towards a related master's program.
Is a graduate diploma higher than a diploma?
Yes, it is higher than a diploma in terms of academic level. While a diploma takes longer, usually more than 12 months, the academic level is lower. A diploma is at Level 5 in the AQF while a grad dip is at Level 8.
Diplomas are vocational or professional qualifications that are generally completed after secondary school or as an alternative to a degree. In contrast, graduate diplomas are postgraduate qualifications that are usually taken after completing a bachelor degree or equivalent qualification.
A diploma provides practical training in a specific trade or field, such as nursing assistance or hospitality. The grad dip, on the other hand, builds on previous studies and learning, providing advanced knowledge and skills in areas such as engineering, psychology and commerce.
A grad diploma is rated higher because it requires a greater level of prior education and provides a more specialised and advanced level of training. It also carries more weight in terms of employability.