It's an advanced degree designed for uni graduates that is focused and career orientated. You can use it to build on previous learning or switch careers altogether.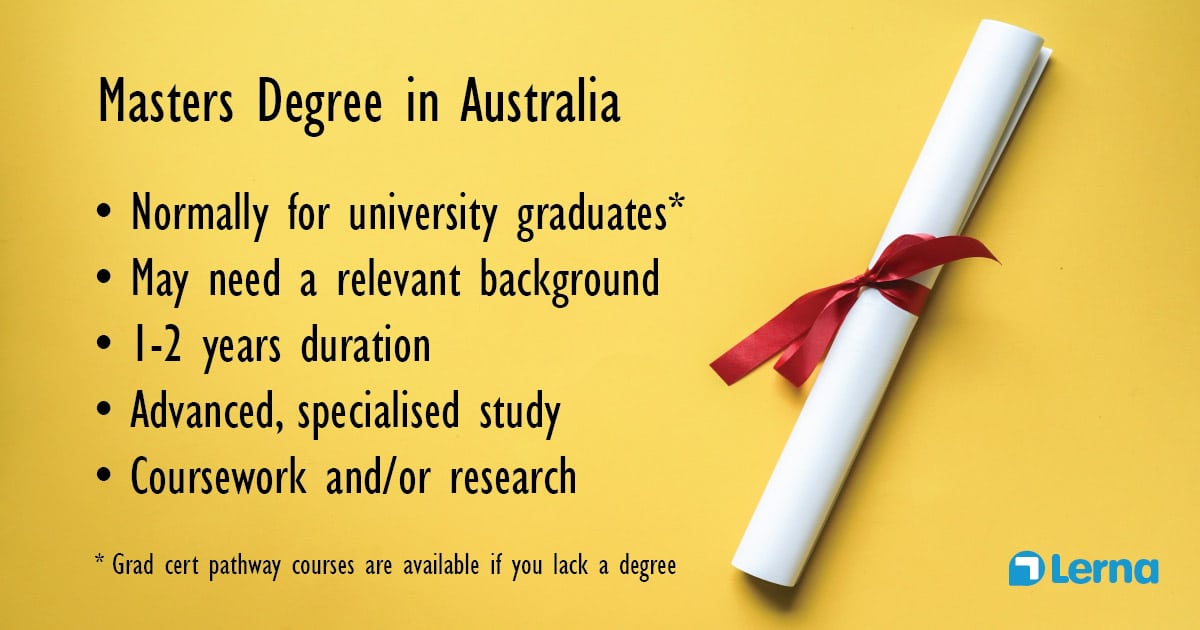 Definition of a Masters Degree
A masters is a postgraduate qualification designed for mature students who already hold a degree. This degree is shorter and more specialised than a bachelor's, typically delving deeper into the subject matter.
In Australia, masters programs typically last between 1-2 years, with 1.5 years being the standard duration for full-time students.
The essence of the degree becomes clear when you consider that most participants are returning to uni. Older students usually have defined learning objectives and seek focused study to prepare them for a specific career stream. That's why the degree offers a compact, specialised education.
Prior knowledge in the field of study isn't always necessary. For instance, management programs welcome students from diverse backgrounds. Similarly, a Master of Teaching is designed for graduates from other disciplines who are transitioning into teaching.
Length of Studies
How many years is a master degree? In Australia, it typically takes 1.5 years to earn your degree, although program duration can vary.
Coursework programs typically comprise 12 subjects, equating to three semesters of full-time study. This is considered 1.5 years, as Australian universities typically run two semesters per year. The duration of Research Master's degrees can vary as it is influenced by the pace of the student's work.
While most students complete 12 subjects to earn their degree, it's also common for programs to be 16 subjects long (2 years). Some courses may be as short as 8 subjects (1 year), particularly for students granted advanced standing. If you have a Bachelor Degree with Honours or a Graduate Certificate in the relevant field of study, you will typically be required to complete only 8 units.
For online study, students generally study part-time, potentially doubling the program duration. However, accelerated study allows a student to complete a 12-subject masters in 2 years at a rate of one subject every 2 months.
Related: How Long Does an MBA Take in Australia?
Differences Compared to a Bachelor Degree
While a master's is a 1-2 year postgraduate degree, a bachelor degree spans 3-4 years typically and is open to recent school leavers. Bachelor degrees are broader in scope and often allow students to take subjects from different faculties.
Entry requirements for a first degree typically depend on a student's Year 12 ATAR performance. For master's programs, the primary requirement is usually that the applicant holds a university qualification. Work experience is also routinely considered for postgraduate course admissions.
For mature-age students looking to start a new career, a master's degree is generally recommended over a bachelor's degree when feasible. Choosing the right program can pave the way to careers in teaching, social work, counselling, psychology, various business disciplines, and technology fields.
Difficulty Level
How difficult is a master's degree? Don't anticipate it being significantly harder than a bachelor degree. It may be intellectually challenging at stages but, for most participants, good study habits should ensure success.
A master's course will likely delve into advanced topics that rely on accumulated knowledge. This is also true for some subjects in any undergraduate degree program, especially in the final year. Many students have the advantage of maturity, being more settled and focused than in their late teens or early 20s.
This educational path requires time, financial sacrifice, intellectual ability, and motivation. It's not solely about academic brilliance, but also emotional intelligence and organisational skills. Even average students can excel in a master's program, showing it's more about dedication and practical skills than pure academic prowess.
Related: Is an MBA Tough? How Hard is an MBA Really?
Is a Masters Worth It in Australia?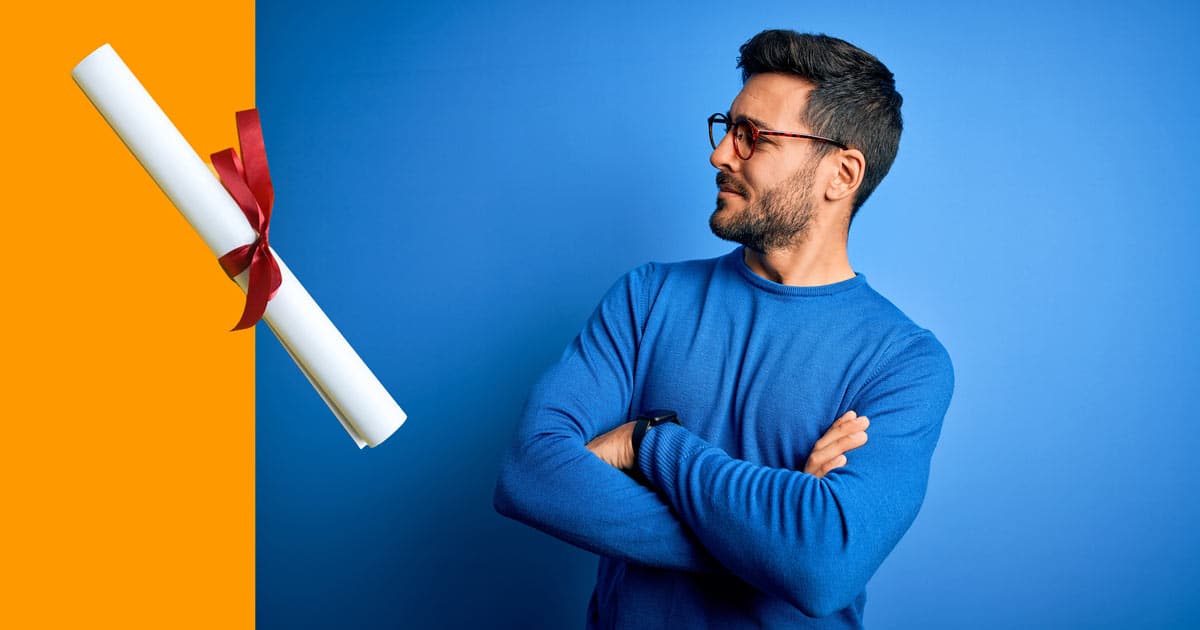 The value of a master's degree can vary significantly in the job market, depending on the field and the holder's work experience. Nevertheless, in most instances, the degree is a sound investment that lays a foundation for career success.
For a higher salary payoff, some of the in-demand fields requiring master's level skills include data science, cybersecurity, business management, and healthcare administration.
Studying for a master's degree, however, is about more than a quick pay rise. With the right course, you can steer your career in almost any direction. For many participants, it offers a second chance to choose their career path.
Graduates earn one of the premier qualifications, providing continuous proof of high skill development. There is no real disadvantage to holding the degree.
Regarding the cost, consider the opportunity cost of your time. This can be minimised by studying part-time online, ensuring no loss of salary or career momentum. Tuition fees can run into tens of thousands of dollars, which may be insignificant compared to potential lifetime earnings benefits. FEE-HELP loans are available.
Are these masters worth it? Cost-benefit analyses
Business Analytics  |  Finance  |  Marketing  |  MBA  |  Mental Health
Embedded Postgraduate Courses
Thanks to embedded courses in master's programs, deciding to undertake a master's degree doesn't have to be a massive decision or heavy commitment. Flexible exit points are available.
A popular and smart approach to begin postgraduate study is with a 4-subject graduate certificate course. Typically embedded within master's programs, the four subjects that students complete can be credited towards a graduate diploma or master's degree.
What is a graduate diploma? It is a mid-length course, typically comprised of 8 subjects. Like the graduate certificate, completed subjects can often be credited towards a masters.
As a result, you can start a master's program but choose to exit after 4 subjects with a fully accredited university qualification. The same option applies after 8 subjects. Graduate certificates and diplomas are valuable qualifications in their own right, offering concentrated, cost-effective study.