If you live in Adelaide and want to study for an MBA degree, what are the options? Let's explore MBA programs at business schools in the city plus online courses.
If you're interested in a Master of Business Administration in Adelaide, you can:
go to university, either the University of Adelaide, Torrens University Australia, University of South Australia or Flinders University;
study with the Kaplan Business School or Adelaide Institute of Higher Education; or
take your choice from online MBA degrees available in Adelaide and Australia-wide.
We're here to help you find the right course. Let's examine MBA courses open to students in the city.
University of Adelaide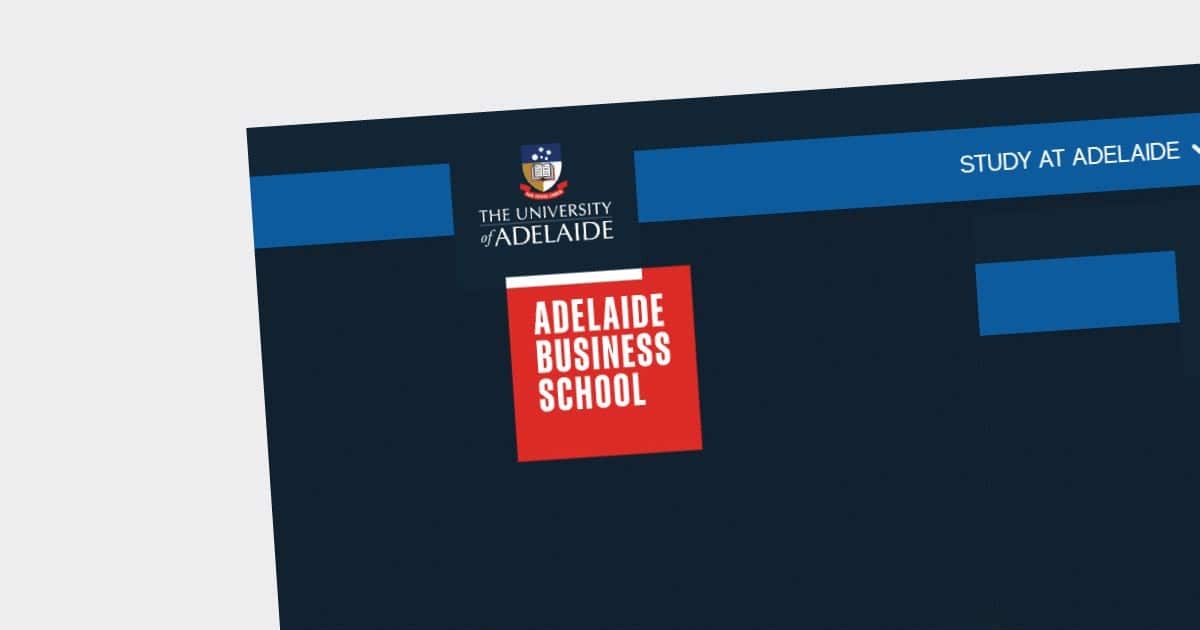 An MBA from the University of Adelaide will look good on your resume. UoA is the top-ranked university in Adelaide and one of the highest ranking universities in Australia. The Adelaide Business School may be Australia's oldest, with UoA first offering business degrees back in 1902.
Your study options include a 2-year specialist program or one-year fast-track program. Both of these courses are open to recent graduates. The Adelaide MBA is also available. The evening and weekend program been designed for working professionals who want to study face-to-face in their spare time.
University of Adelaide Online
The University of Adelaide also offers a 100% online MBA designed just for online learners. For convenience and simplicity, you only do one subject at a time. Each of the 12 subjects is completed from start to finish within a 6-7 week study period.
By doing 6 subjects per year as a part-time student, you can earn the MBA in just two years. No time off work is required. You'll be able to connect to classmates and instructors online at times that suit you.
The program is offered as part of a suite of high-quality courses offered by the University of Adelaide Online.
Course outline
The accelerated MBA program contains 10 core subjects and a double-weighted research project. Students gain management knowledge and learn strategies that can be applied in any leadership role. You also develop business skills for use in managerial capacities.
Topics you'll explore include accounting and financial management, entrepreneurial mindset, innovation management, leadership and influencing, managerial economics, managing people and organisations, marketing for managers, research for managers, strategic alignments, and systems thinking.
Entry requirements
A degree and some experience will get you in but you can also qualify without a degree. Minimum requirements are:
A bachelor degree (or equivalent) and at least 2 years of relevant work experience OR
Completed GMAT with a score of 500+ and at least 2 years of relevant work experience OR
At least five years of relevant work experience.
If admitted based on experience alone, you'll need to complete the embedded Graduate Certificate in Business Administration successfully before continuing with the rest of the program. English language requirements apply for students from a non-English speaking background.
Torrens University Australia
Torrens University Australia was first established at the Wakefield St Campus in Adelaide City before spreading to other parts of Australia. Flexible study options, including 100% online, are available. Students from abroad need to attend at least some classes in the Wakefield Street building.
The 12-subject Torrens MBA consists of eight core subjects and four electives, with numerous elective units to choose from. Each subject requires 10 hours of study per week, split between 3 hours of guided study and 7 hours of independent study. Students explore topics such as business decision analytics, dynamic leadership, financial management, managing people and teams, marketing, strategic management, and systems thinking.
Tuition fees for 2023 are set at A$3,340 per subject for domestic students and $3,795 for international students. Full-time and part-time study options are available.
University of South Australia (UniSA)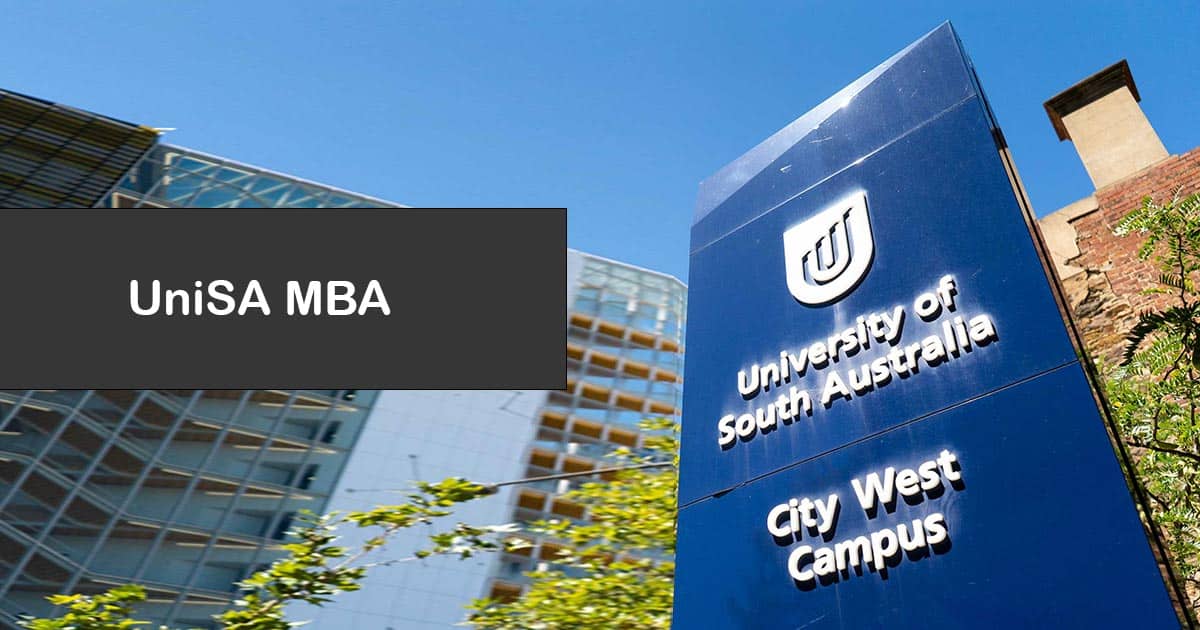 The University of South Australia looks to have a solid MBA program. You might find the UniSA MBA the best in Adelaide if you're from abroad. The course is open to degree-holders with three or more years of management experience.
What you'll study (course structure)
The MBA course is traditional in terms of subjects, with 8 core subjects, 3 electives and 1 capstone unit: either a strategic industry project or company directors course. Specialisations are available in Finance, Human Resource Management, and Marketing. Core topics covered include strategic thinking, accounting, finance, managing people and organisations, international business, marketing, ethics, and leadership for growth.
When you'll study
The UniSA MBA program is flexible in terms of when you study. Face-to-face classes are offered in the evenings and during intensives. You can also study online or choose mixed-mode study.
The academic year is divided into four study periods of 10 weeks each, which only allows part-time students to do four subjects annually. So, you're looking at three years to earn the degree part-time. That's twice the duration of the comparable Adelaide MBA as well as the University of Adelaide's online MBA.
UniSA MBA Reputation
The University of South Australia has achieved high rankings and awards for it's MBA according to the university's website. But the reputation of a UniSA MBA may be somewhat lower in Adelaide itself. Bear that in mind if you plan to pursue your career in Adelaide after graduating.
UniSA is Adelaide's second-ranked university for business based on course entry scores for local students. Getting into the undergraduate business program requires a Year 12 Australian Tertiary Admissions Rank (ATAR) of 80 at the University of Adelaide, 65 at UniSA and 60 at Flinders University.
Tuition fees
Tuition fees are AUD$4,637.50 per subject in 2023 or AUD$4,725 for international students. Compared with the UoA MBA, the degree is slightly expensive for domestic students but cheap for students from abroad.
Flinders University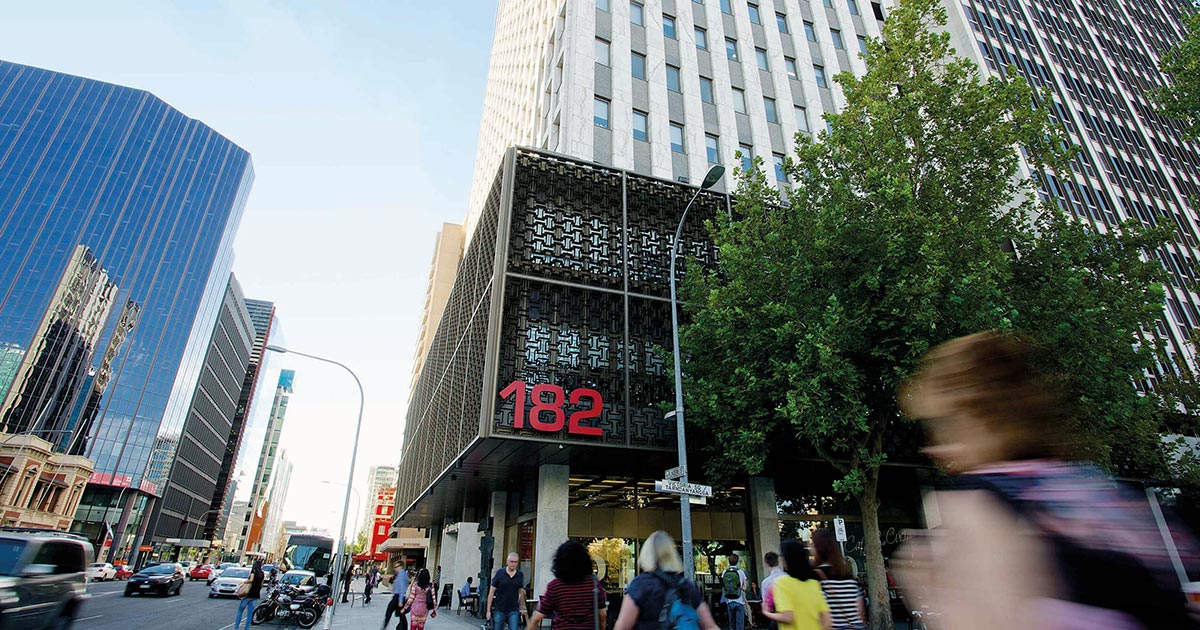 The MBA degrees at Flinders University offer different learning experiences from what you might expect. Program features include no exams, connections with industry, and strong student support. Entry standards are relaxed, with a bachelor degree or work experience enabling course admission.
One-year MBA (Future Business)
Study full-time across all three study periods in the year and you can earn a degree in just 12 months. The MBA Future Business from Flinders University contains 12 core subjects, with the option for an industry placement or entrepreneurship program as one of the subjects. Work-integrated (business-connected) learning features throughout the program. Online as well as part-time study options are available.
Topics include business analytics, business finance trends, business law, economic trends, emerging business models, ethics and governance, digital marketing, financial performance, future of work, market research, supply chain management, and team and network building.
MBA (Industry Focused)
The MBA (Industry Focused) is a 14-subject program that you can complete in 2 years. Delivered in the Adelaide CBD, you'll experience up to 36 weeks of industry experience. The course enables you to make connections, develop leadership skills and benefits from diverse, applied learning.
MBA with Specialisations
Gain specialist skills with a major in Business Analytics, Finance, Healthcare Management, Human Resource Management, International Business or Marketing. The 16-subject program takes 2 years of full-time study. You'll do several subjects focused on your area of interest while also gaining a general business and management education.
Tuition fees
In 2022, the standard fee per subject for business at Flinders University is A$4,198.50 for domestics students and A$4,687.50 for international students. That works out to A$50,382 and A$56,250 for a 12-subject MBA for domestic and foreign students respectively. Eligible domestic students automatically receive FEE-HELP loans to cover course costs.
Kaplan Business School (KBS)
Kaplan Business School has an MBA program in Australia. The course is available online as well as at study centres in Adelaide, Brisbane, Melbourne, Sydney and Perth. The program takes 24 months to complete, with students doing two subjects each trimester.
Topics you'll explore include contemporary leadership, governance and ethics, financial and economic literacy, consumers and marketing, and cultural management. Six of the 12 subjects are electives, covering areas such as coaching, conflict management, data analytics, entrepreneurship, healthcare management, and small business administration.
To gain entry, you should have a bachelor degree OR an associate degree or advanced diploma and at least two years of relevant industry experience. Tuition fees are competitive, set at A$3,400 per subject for Australians in 2022 and A$3,990 for international students.