Add instant credibility to your resume with the right project management certification for Australia.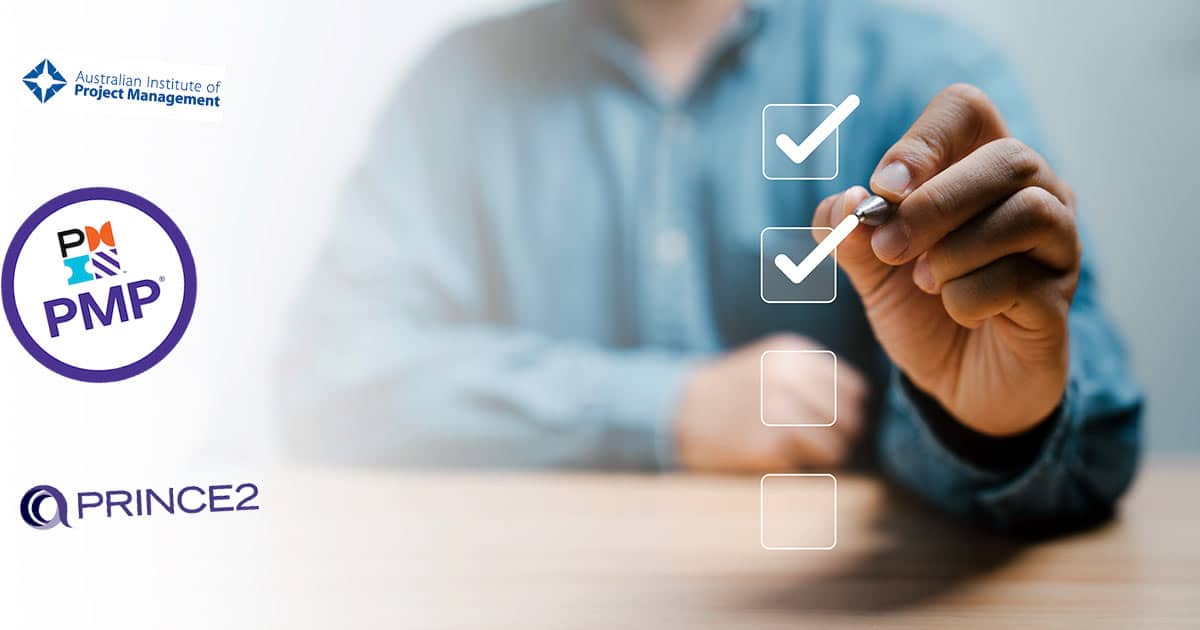 In a competitive job market, project management certifications are valuable for establishing knowledge and credibility. Employers prioritise certified professionals who can effectively handle complex scenarios.
It has been estimated that 80% of high-performing projects employ a certified project manager. PricewaterhouseCoopers has also found that highly mature organisations boast a certification rate of 95%. Adding a certification to your credentials clearly demonstrates your ability to plan, execute, and successfully deliver initiatives.
To assist you in making an informed choice, we have compiled the best certifications for Australia. Explore the leading certificate options in your field.
Top 4 Project Management Certifications
Whether you're interested in agile methodologies, risk management, or strategic planning, this list will guide you towards the certifications that will make a real impact on your project management career.
We have reviewed the leading certification programs from Australia and around the world. If you are mainly interested in working in Australia, here are the top choices available.
1. AIPM: Australian Institute of Project Management
AIPM certifications stand out because the Institute understands the specific knowledge and practices required in Australia. For example, they value practical experience and assessments rather than relying solely on exams.
The flagship certification is the Registered Project Manager (RegPM™) program, which formally recognises and validates the capabilities and experience of project managers at different career stages. RegPM™ certifications provide national recognition and a significant competitive advantage.
AIPM offers a range of certifications, each representing a progression in responsibilities, expertise, and the complexity of managed projects:
Certified Practising Project Practitioner (CPPP)
Certified Practising Project Manager (CPPM™)
Certified Practising Senior Project Manager (CPSPM)
Certified Practising Project Director (CPPD)
Certified Practising Portfolio Executive (CPPE)
Certified Practising Project Sponsor (CPPS).
With AIPM, you gain access to a strong professional network and community, connecting you with peers, mentors, and industry experts. Employers in Australia highly regard AIPM certifications as an endorsement of industry-specific talents.
2. Graduate Certificate in Project Management
If you're considering a career transition into project management or seeking formal recognition of your existing knowledge, a Graduate Certificate in Project Management from an Australian university could be a wise choice.
A graduate certificate course delivers a solid theoretical foundation, developing your understanding of project management principles, methodologies, and tools. Additionally, it serves as a pathway to a graduate diploma or even a master's degree. Typically, the course comprises four subjects selected from a 12-subject Master of Project Management program.
With many universities offering online or part-time options, this course can be an excellent choice for working professionals. The skills acquired through this program can be applied across a variety of industries and roles, beyond just traditional project management. Courses can also advance you towards industry-based certifications as part of the program design.
Obtaining a university qualification can be particularly advantageous for individuals looking to change careers, as you will gain foundational knowledge needed to succeed in your new role. If you're looking to boost your qualifications, it's worth noting that a graduate certificate is rated above a bachelor's degree in the Australian Qualifications Framework.
3. PMP: Project Management Professional
The Project Management Professional (PMP) certification is widely recognised and valued around the world, including in Australia. It is often seen as a mark of competence and professionalism, indicating that a project manager has both the theoretical knowledge and the practical experience necessary to manage projects efficiently.
PMP certification is a top choice in Australia as it's recognised globally, expanding career opportunities beyond borders. It also often leads to higher salaries, making it a valuable professional investment. Moreover, its rigorous requirements are a clear indicator of skill and competency. Finally, it provides a standardised base of knowledge, ensuring consistency in daily practices.
To obtain a PMP certification, you need either a secondary degree with 7,500 hours of project management experience, or a four-year degree with 4,500 hours of experience. Both require 35 hours of project management education. Lastly, you must pass the PMP exam.
Is PMP worth it in Australia?
PMP certification has high recognition in Australia and globally, and can often lead to better salaries and wider job opportunities. But you should also consider that PMP demands significant experience, intense study, and passing a rigorous exam.
While it's an impressive credential, you'll need to balance the time and financial investment against potential benefits. Depending on your personal circumstances and career goals, a certification from AIPM or a Graduate Certificate from an Australian university may make more sense in Australia. Alternatively, a niche certification that aligns closely with your industry and career direction could be more to your advantage.
4. PRINCE2
PRINCE2 (Projects In Controlled Environments) remains a heavy hitter in project management, both in Australia and globally. Particularly favoured in the public sector and in industries where firm control over resources is paramount, it establishes a process-driven approach.
PRINCE2 certification offers two tiers: Foundation and Practitioner, and an additional Agile version for those interested in a flexible, responsive approach.
The Foundation course imparts a basic understanding of the method.
The Practitioner level validates your ability to apply theory to practical scenarios.
The Agile variant combines PRINCE2 governance with agile concepts.
There are no prerequisites for the Foundation exam, but passing it is a prerequisite for attempting either the Practitioner or Agile level.
PRINCE2's cornerstone is its rigid structure. It parcels projects into manageable, controllable stages, furnishing managers with a trustworthy, reliable blueprint. However, its rigidity may not match the agility and adaptability of some modern methodologies like Scrum, Kanban, lean project management, and design thinking.
Is PRINCE2 certification worth it in Australia?
For project managers who find comfort in structured environments and seek a comprehensive, time-tested framework, PRINCE2 is worth a look. Although it might not catapult you to the top of every recruiter's list, it remains a solid and respected credential that can substantially enhance your professional portfolio.
PRINCE2 excels at fostering clear communication within project teams, endorsing a shared language that helps unify all team members. The Agile version further allows for greater adaptability and responsiveness in dynamic project environments.
Securing this certification is time consuming. Study preparation for Foundation and Practitioner exams can consume up to 60 hours. Additionally, maintaining the Practitioner certification requires retesting or ongoing professional development every three years, presenting recurring costs.