Let's take a look at six of the key benefits of online MBA programs. These are advantages of online MBAs that help explain why online learning is fast becoming the preferred way to earn a Master of Business Administration degree.
1. Flexible Study Schedule
Studying for a Master of Business Administration online has emerged as an incredibly popular choice, and for good reason. The online format and structure provide a unique versatility and flexibility that works around your already busy life.
Most online MBA courses are structured with flexible schedules, a massive benefit to people who cannot drop everything in their life to pursue a degree. To those who already have incredibly active lives, this flexible format allows MBA students to study and complete their work when they have time.
No longer do you have to sacrifice education opportunities because of being unable to easily attend a university campus. The relaxed and fluid nature of online courses allows you to schedule your schooling around the important life moments you don't want to miss!
2. Work While Studying
A significant benefit of earning your MBA online is that you can work part or full time while studying towards your degree. This ability to keep your current job is immensely important, allowing you to maintain both some financial income and progression in your current occupation field.
In addition, there are some companies that will sponsor you financially to earn your MBA while you work for them. For working people, the online mode not only has attractive advantages, but it may be the only realistic option for getting a degree.
3. Convenience of a Home Base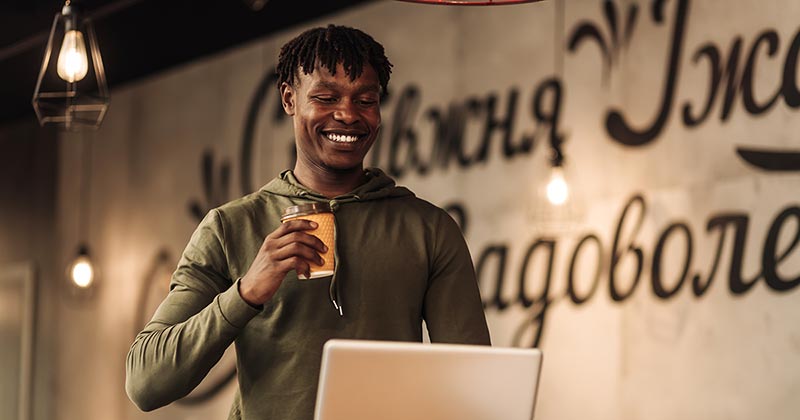 Most people already have to commute considerable distances for their everyday jobs, so the added complication of having to then travel to a physical college campus can be a time-intensive hassle. However, earning your MBA online eliminates this need to commute or relocate. No travel is just one benefit that makes it easy to decide that getting an MBA is probably worth it.
You can learn and study from the comfort of wherever you choose, whether it be your favorite coffee shop or from home. Perhaps you can get creative and increase efficiency by studying while on your public transportation commute to work.
4. Choose Any Online College
With no worries of relocation to attend college since earning your MBA online gives you the unique ability to choose courses from distant business schools. An abundance of colleges offer online MBAs, so you have the ability to choose the program that best suits you regardless of distance.
For example, you could choose the best specialist program for the study field of your choice, such as a degree focusing on entrepreneurship, leadership or finance. The benefits of doing an MBA online vs in person include the ability to choose almost any type of program.
5. Engage with Different People
Designed to be accessible to anyone, many online MBA programs foster a diverse community of students. This diversity provides you with unique perspectives and interactions from fellow students who otherwise would not have been present in a physical university.
Studying in a virtual class with people of different backgrounds, from stay-at-home parents to future Fortune 500 company leaders, is educationally enriching and a specific benefit from studying online. Online programs build on the networking benefits of a traditional MBA by bringing a greater spread of people together.
6. Build Technology Skills
The digital medium in which the MBA is presented helps to deliver innovative technology to students and build their technical skills for their professional life. It is no secret that technology will continue to be a huge component of business.
Online MBA programs help you become familiar with business technologies and communication software; yet another benefit that helps explain the popularity of studying for an MBA online.
And We Could Go On
We could discuss more advantages if we really wanted to. But aren't you convinced already?
Further benefits of the online MBA are that some of the programs are exam-free, there is less risk associated with starting a new program, and you are less likely to face an entrance exam. Refer to Augusta Free Press for details of additional benefits.